China-Russia relations in the context of Russia's invasion of Ukraine
When?

28 March 2023 , 18:00

Where?

Online, Zoom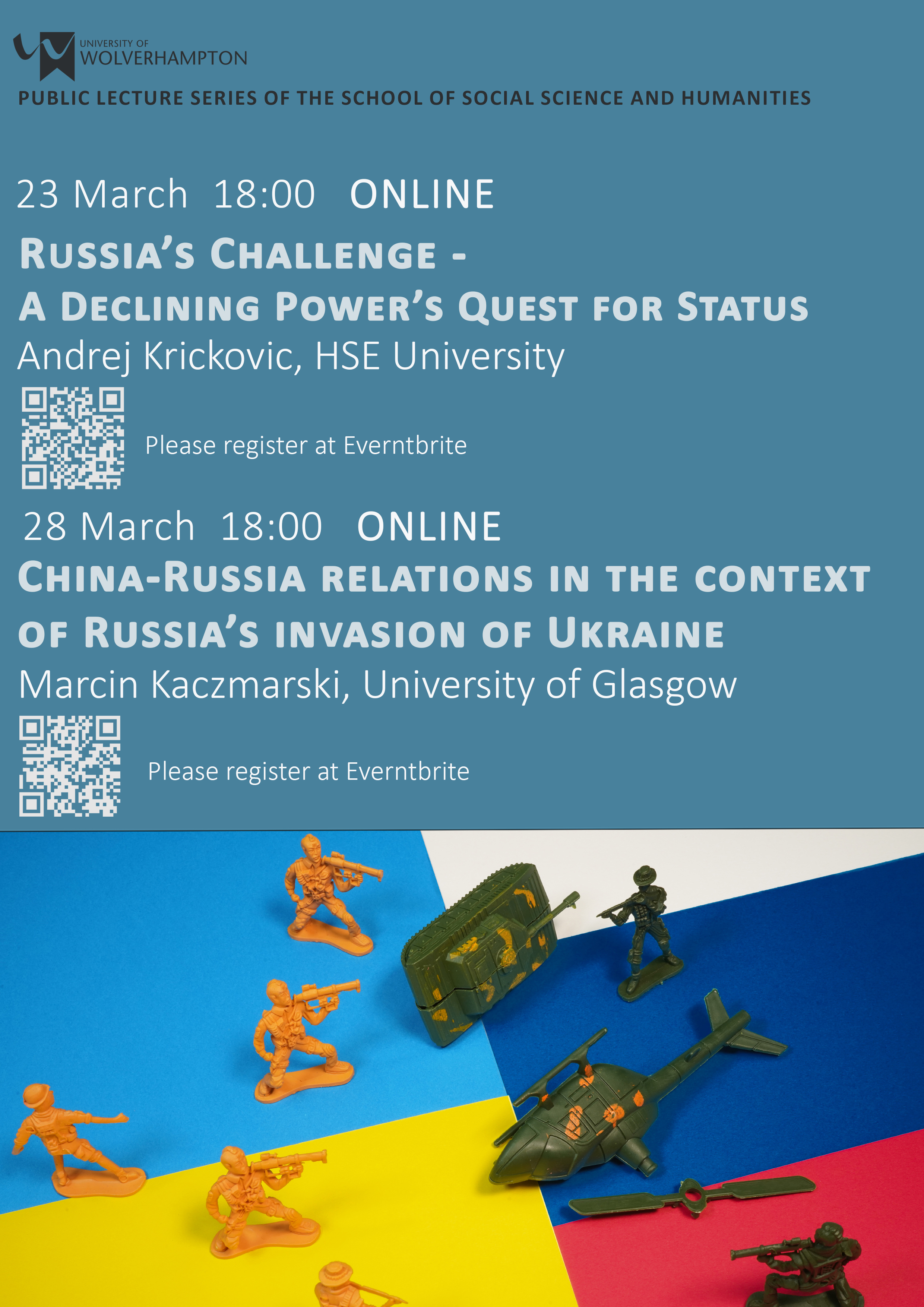 The School of Social Science and Humanities invites everyone interested to the series of online public lectures on Russia's invasion of Ukraine. Speakers will harness insights from International Relations theory to better understand the implications of Russia's war in Ukraine for international order at large and discuss how China reacts to it. Join us online for lectures and lively discussions on 23 March and 28 March at 18:00.
28 March 2023, 18:00
China-Russia relations in the context of Russia's invasion of Ukraine
Marcin Kaczmarski
The war in Ukraine has revealed the paradox of Sino-Russian relations. Incremental developments observed for many years have not led to a strategic breakthrough. While the Sino-Russian relationship can be considered at its peak, it is still a partnership with limitations - contrary to both states' claims. China has supported Russia politically, mirroring Moscow's narratives about the origins of the war and blaming the West, the US in particular. Militarily, joint exercises continued. Chinese companies seized on the opportunity and increased their presence in the Russian market. However, China has not provided Russia with the support that would openly challenge Western sanctions. Beijing has not offered substantial financial or economic assistance. No major investments, mergers, or contracts have been announced. Finally, China is dragging its feet over the planned gas pipeline via Mongolia. While Beijing does not want to see Russia's failure in the war, it is not ready to offer fully-fledged support.
PLEASE REGISTER HERE: http://www.eventbrite.co.uk/e/china-russia-relations-in-the-context-of-russias-invasion-of-ukraine-tickets-570870437847
Marcin Kaczmarski is a Lecturer in Security Studies in the School of Social and Political Sciences, University of Glasgow. In his research, Marcin focuses on Russia-China relations, Russia's foreign policy, great-power regionalism and the role of domestic politics in foreign policy. He is the author of Russia-China relations in the post-crisis international order (Routledge 2015) and published articles in leading academic journals, including International Affairs, Survival, International Politics, Europe-Asia Studies and Problems of Post-Communism. Marcin was a visiting scholar at the Chengchi University in Taiwan, the Slavic-Eurasian Research Center in Japan, the Aleksanteri Institute in Finland, the Kennan Institute in Washington, DC, and the Shanghai International Studies University in China. Prior to joining the University of Glasgow, Marcin combined research and teaching at the University of Warsaw with policy-oriented analysis for the Finnish Institute of International Affairs in Helsinki and the Centre for Eastern Studies in Warsaw.



These lectures are organised by the School of Social Science and Humanities at the University of Wolverhampton. The School offers students various opportunities to study a wide range of important topics shaping the future of our world today. Our programmes in Politics, International Relations, and War Studies explore not only the ways in which politicians, parties, organisations and institutions interact in their attempts to solve international problems, but also what role we as citizens in a globalised world may play in tackling these issues.